Key Points:
TGL introduces a fresh format of match play with each hole valuing one point, where the team with the least strokes wins the point.
Two captivating sessions comprising Triples (3 vs. 3 alternate shot) for 9 holes, and Singles (head-to-head) for 6 holes, adding a strategic essence to the game.
The highly anticipated playoffs to see the top four teams from the regular season vying for the championship in single-elimination semifinals and a "best-of-three" Championship Series.
---
The Dawn of Modern Match Play: TGL's Innovative Format
As the golfing world eagerly awaits the January 2024 launch of TGL presented by SoFi, the league unveils its unique match play rules destined to add a new level of excitement and strategy to the game. Unlike traditional golf scoring, TGL adopts a point-based system where each hole represents one point, and the team with fewer strokes claims the point. Ties on a hole are worth zero points, leaving no room for carryovers.
Match Format Breakdown: Triples and Singles
TGL's match play is split into two intriguing sessions. Session 1, termed 'Triples', is a 3 vs. 3 alternate shot format spanning 9 holes, promoting team synergy and strategic play. Following this, Session 2, dubbed 'Singles', shifts to a head-to-head combat for 6 holes, where individual prowess shines.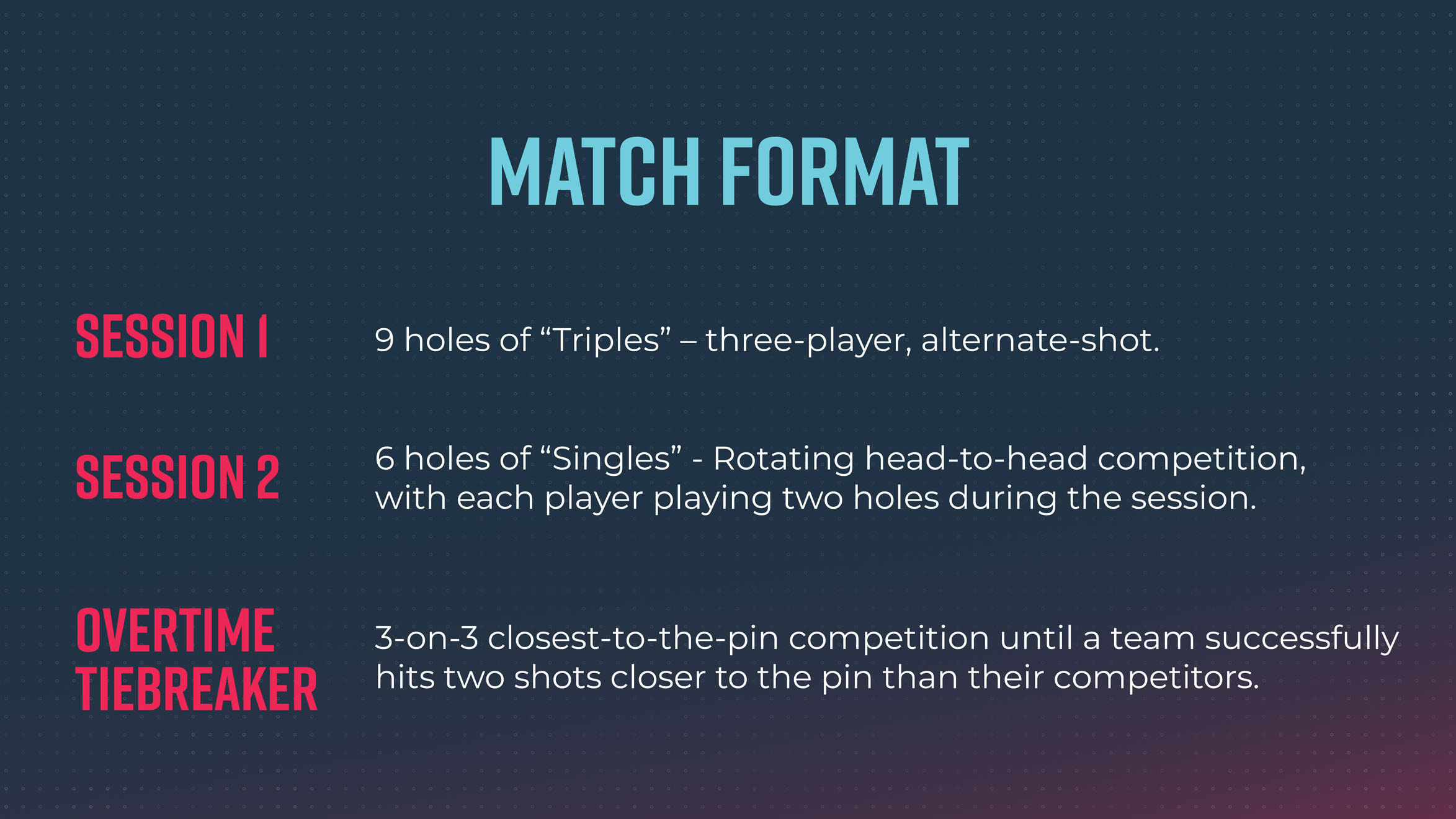 Regular Season: The Race for Points
Drawing parallels with professional hockey's scoring, TGL's regular-season matches can award teams up to two points, intensifying the competition. The accumulation of these points over the season determines the league standings, leading to a playoff showdown among the top contenders.
Playoff Showdown: Path to Glory
The playoff spectacle will see the crème de la crème, the top four teams from the regular season, clashing in single-elimination semifinals. The climax, a "best-of-three" Championship Series, will crown the inaugural TGL champions, etching their name in the annals of this revolutionary golf league.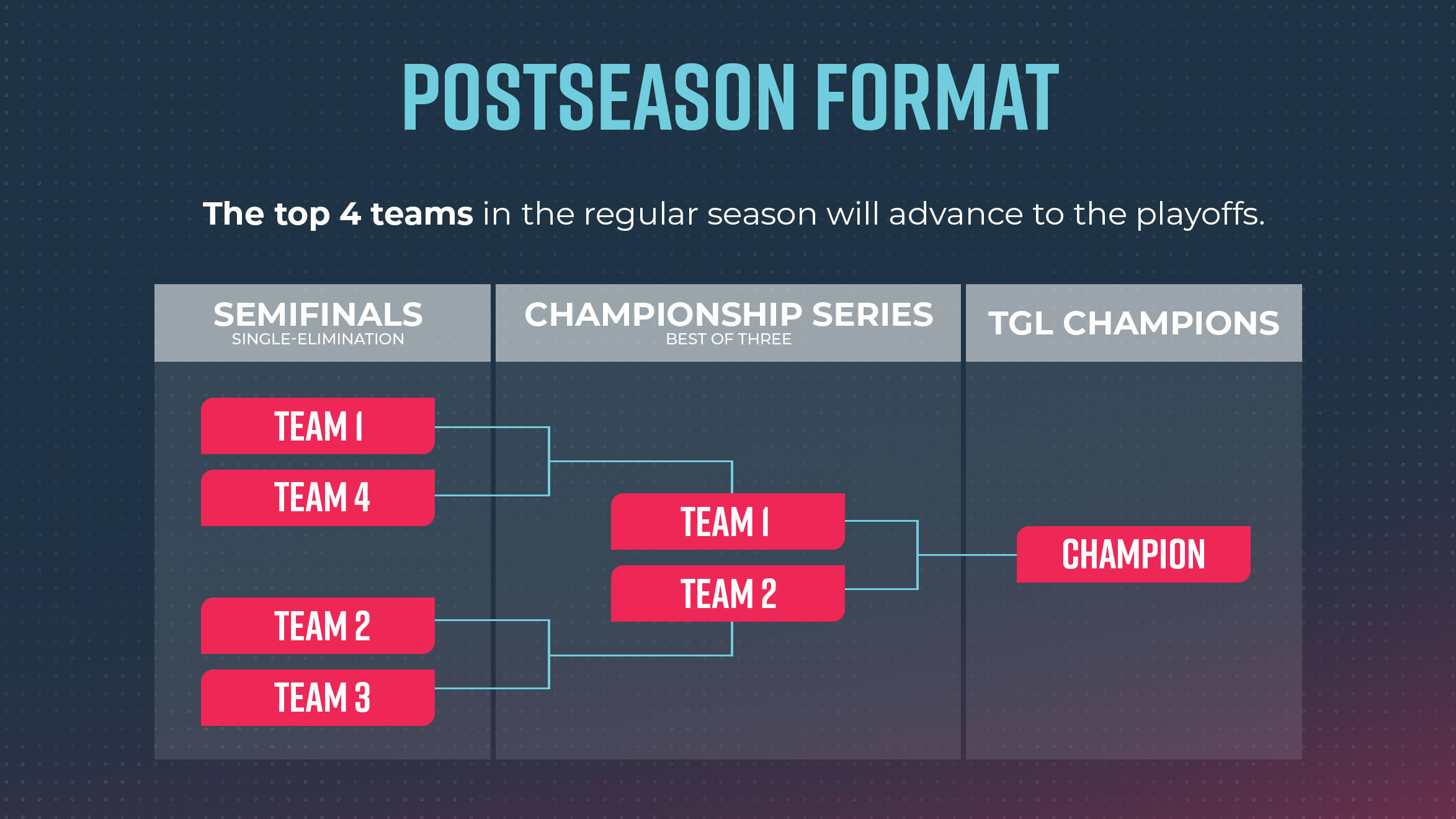 The Magical Venue: SoFi Center
Set to host this golfing extravaganza is the SoFi Center, Palm Beach State College, Florida. The nearly 250,000-square-foot venue, with its 75-foot-high apex, is geared to house about 1,600 enthusiasts on match nights. A large plaza for pre-match festivities and multiple fan-engagement elements will enhance the overall match-day experience.
Technology-Infused Course Design
The course within SoFi Center is a marvel of modern technology covering an area roughly the size of a football field. Players will experience real grass tee boxes, fairways, rough, and sand, coupled with Full Swing technology for long shots into a gigantic screen.
Transitioning to the 'Green Zone' for short-game and putting, players will find a tech-laden putting surface larger than four basketball courts. Here, Virtual Greens by Full Swing morph the green's slope, presenting a variety of play on every TGL hole, promising a dynamic, tech-forward golfing adventure.
---
The unveiling of TGL's modern match play rules has set the stage for a golfing season filled with strategic play, technological advancements, and the relentless pursuit for the championship title. The countdown to January 2024 begins as golf aficionados worldwide set their sights on the SoFi Center, the heart of this groundbreaking league.
Simple Breakdown Of TGL Golf Rules
Modern Match Play Scoring:

Each hole is valued at one (1) point.
The team with the fewest strokes (shots) on a hole wins the point.
Ties on a hole are worth zero (0) points; no carryovers.

Match Sessions:

Session 1 (Triples):

3 vs. 3 alternate shot format.
Spans 9 holes.

Session 2 (Singles):

Head-to-head format.
Spans 6 holes.

Regular Season Point System:

Teams can be awarded up to two (2) points per match towards their regular-season total.

Playoffs:

Top four teams from the regular season advance to the playoffs.
Playoffs include single-elimination semifinals and a "best-of-three" Championship Series.